Learning from Professor George Serafeim
"Profit is the fuel that allows you to reach your destination, which is the purpose. Those ideas are interconnected, and if you get the balance off, you can potentially destroy both of them" – George Serafeim
We are excited to learn about sustainability from an integrated business perspective, balancing corporate purpose with profit from Harvard Professor, Board Member, Author, and Advisor George Serafeim.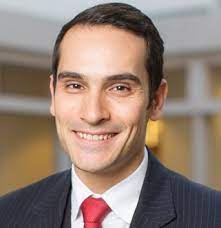 George Serafeim is Professor at Harvard, co-leading the Impact-Weighted Accounts Project and the Climate and Sustainability Impact AI Lab.
He is teaching the course "Risks, Opportunities and Investments in an Era of Climate Change" and authored the book "Purpose and Profit: How Business Can Lift Up the World" where he is exploring the challenges and opportunities in building and sustaining profitable purpose-driven organizations that have a measurable positive impact on society.
George is a member of several boards, including listed and Fortune 100 companies, and he is an academic partner at State Street Associates.
George is passionate about exploring and guiding leaders and companies in building companies that positively impact all stakeholder.
The episode is recorded as both an Audio and Video Podcast, and it focuses on George's journey, insights from his book and approaches he finds useful for top companies, leaders, and boards.
Welcome to listen and learn about
About George Serafeim and how it all started
Importance of Transparency & Values
Technology Impact
The links between Purpose and Profit
The importance of profit
Meaning of ESG
Need of Innovation
The Boards role
Impact Accounting
Transformation and Incentives
Being Courageous
George as an artform
<iframe src="https://anchor.fm/exploring-leaders/embed/episodes/Purpose–Profit-with-Professor-George-Serafeim-e1qeo8u" height="102px" width="400px" frameborder="0″ scrolling="no"></iframe>
Harvard Professor, Board Member and Advisor George Serafeim shares his story and his insights into the area of balancing corporate purpose with profit. George Serafeim shares insight from his work and his book "Purpose and Profit: How Business Can Lift Up the World", where his is exploring the challenges and opportunities in building and sustaining profitable purpose-driven organizations that have a measurable positive impact on society.
Harvard Professor, Board Member and Advisor George Serafeim shares his story and his insights into the area of balancing corporate purpose with profit. George Serafeim shares insight from his work and his book "Purpose and Profit: How Business Can Lift Up the World", where his is exploring the challenges and opportunities in building and sustaining profitable purpose-driven organizations that have a measurable positive impact on society.
Purpose and profit are how businesses can lift up the world
In today's complex and uncertain business climate, more and more companies are finding that having a clear purpose beyond profit can be a powerful driver of both financial performance and long-term sustainability.
But they are still clear that purpose and profit are intertwined. Without profit, there is no ability to develop impactful actions, and you will depend on others' grants and mercy.
The latest report by the UN predicts that countries' Climate Pledges to reduce CO2 emission, including all businesses, are seriously inadequate and put the world on track for a temperature rise of between 2.4C and 2.6C by 2100, with the fatal effects of global warming already evident.
That means businesses who believe climate change will not impact their business might be correct in the very short term but will already experience an impact starting the coming year. For example, insurance companies will be increasingly impacted and will have to take out their fees across their customers.
We now need leaders who are insightful and who are purposeful.
Professor George Serafeim is the best friend of true, purposeful leaders. He has explored how business can be a good force for several years and recently published a must-read book for all board members and leaders, "Purpose + Profit. How business can lift up the world."
In the book Profit + Purpose Professor Serafeim explores questions like
Why is Environmental, Social, and Governance becoming increasingly relevant for business worldwide?

Four societal trends drives the focus on sustainability; Increased availability of choice, increased transparency of corporate behavior, increased opportunity for employees and customers to express their voice, and the increasing importance of value (human and societal) versus physical resources
Purpose-driven firms that improve performance on material ESG issues outperform competitors by more than 3% annually in terms of stock returns. It attracts customers, employees, and investors.
How can companies design and implement a strategy that has a more positive impact?

The purpose and ESG cannot be treated as an additional or on-the-side activity but must be truly integrated into the business strategy and operations to have an appropriate impact. Companies usually go through three phases: ESG compliance, driving operational efficiencies, and achieving sustainable innovation.
There are five steps toward meaningful sustainability innovation for corporations.
 There is a need to focus on continued innovation. To be purposeful, businesses must constantly strive to innovate and improve. This means encouraging creativity and risk-taking and investing in research and development.
What are the Six archetypes of value creation from these trends?
       There are six archetypes of sustainable value creations with different impact.
New Model/market – Grow revenue through new environmental or social-minded products, initiatives, or markets
Business Transformation -Shifting misaligned business
Pure Play Aligned – launch brand new business

Substitute Product – existing products gain prominence in light of environmental or social issues

Operational Efficiencies – improving return on capital by decreasing the environmental footprint, increasing productivity or similar
Recognizing Value – Move in the shadow of ESG leaders to drive market valuation multiples
Which are the roles of investors in supporting strategic management and ESG?

Both institutional investors and private equity is increasingly requiring and supporting sustainability initiatives. One example is the Private Equity Company Summa Equity, established to focus on sustainable business and now has more than 1 billion under management. An inspiring example is their first exit in 2021 from the environmental solutions company Sortera, which grew its revenue sevenfold over five years, and its valuation even more than that.
How can we all reflect on our roles and careers?

Professor Serafeim notes that the essential trait is that you have to care. It requires all of us on an individual level to take responsibility aligned with our role in business and private.
A clear difference in leadership accountability can be found in sustainability-oriented firms, where more leaders are willing to take risks to pursue sustainability, more leaders integrate sustainability in the basic business decisions, and more leaders have enterprise-wide management systems for executing sustainability goals;
Leaders and board members of companies need to start to measure their impacted weighted performance; employees should ask their leaders to be transparent about their impact-weighted performance, investors should demand transparency about the same, and policymakers should work to mandate the publication of the impact-weighted performance. And as consumers, we should make an effort to buy products that produces an overall positive impact.
Impact-Weighted Accounting
Professor Serafeim is also engaged in developing the concept of Impact-Weighted Accounting and supporting trailblazing companies exploring the topic. Impact-Weighted Accounts (IWA) is a methodology for Corporate Environmental Impact developed at Harvard Business School and aims to help companies internalize natural capital pricing by taking a practical approach to monetizing environmental externalities through the integrated accounting of corporate operations.
In his work, he has been engaging and supporting several Nordic firms that are trailblazing on the topic, including the Private Equity firm Summa Equity and The Industrial Firm Linden Gruppen.
As example, Linden Gruppen shared in their recent Annual Report, and in a webinar with Boards Impact Forum, how they are changing their notion of Value Creation for their firm.


Additional insights on the benefit and approach of combining purpose and profit
Purpose has become an important factor in consumer, investor, and employee decisions and a common topic on boardroom and regulatory agendas.
The conclusion from a recent article from World Economic Forum is highlighted based on different research reports.
Companies with a clear purpose are more likely to inspire trust
Companies with a solid and effective purpose strategy see the returns
Leaders can engineer business success by identifying the organisations purpose and measuring progress towards it.
The article highlights four essential actions that board members need to take
Walk the Talk – ensure an active purpose strategy, not just a brand highlight.
Act on the most critical issues – actively explore the most material issues and related mitigation or exploration actions.
Be proactive about measuring impact – what are the primary sources of influence on purpose, and how does the company perform?
Look beyond your industry – establishing more resilience and sparking new ideas for value creation.
Another research A review of Corporate Purpose: An Approach to Action Sustainable Development Goals, found that there are three approaches to Corporate Purpose; The regulatory approach, the business-oriented approach, and the organizational identity-oriented approach.
They found that all three approaches can contribute to the progress of sustainability and the SDGs, but that the business-oriented approach has a more immediate effect in actioning the SDGs and more material impact.
They also found that the business-oriented approach can impact the company the most, both outside in the ecosystem, inside in everyday operations and at the core skills.
The researchers Eccles, Mayer and Stroehle point out the link between purpose and sustainability: "the purpose of a company is to produce profitable solutions to problems for the people or the planet not profiting from producing problems for people or planet". Companies that are investing in sustainability while failing to produce profitable solutions for people and the planet are also failing in purpose.
There is also a risk that tweaking business as usual will undermine sustainability and that a purpose-driven approach is the best route to a sustainable business that creates value for both shareholders and stakeholders.
The concept Enlighted Shareholder Value highlights that destroying the resource base on which profit rest is not in the interest of the business, be it shareholders or the survival of the business in anything but the short term.
A definition of purpose is suggested to be "an organization's meaningful and enduring reason to exist, which aligns with long-term financial performance, provides a clear context for daily decision making, and unifies and motivates relevant stakeholders".
The three core powers of organizational purpose are to be clear, meaningful, and authentic. These three powers need to be unleashed strategically for an organization to be genuinely purpose-driven.
A guide to lead with purpose is based on aligning the organizational purpose, strategy and sustainability while ensuring internal integration and external engagement.
Implementing and governing the purpose from the board comes with five straightforward governance questions, formatted into the concept of SCORE, as defined by a research initiative led by Mayer and Eccles at Oxford University, the Enacting Purpose Initiative. The purpose is answering the question – Why does the organization exist?
Simple – Is our purpose simple enough to be understood and acted upon?
Connect- How does our purpose connect to our mission and to the strategic choices we need to make?
Own – What are we as a board doing to ensure that our purpose is embraced by everyone inside the company and supported by our investors?
Reward – How is our purpose linked to internal reward systems, including (but not limited to) remuneration?
Exemplify – What stories do we use to show our purpose in action?
Going the extra mile and rethinking the business can be inspired by reading the book Net Positive by former Unilever CEO Paul Pohlman and Andrew Winston. Here they reveal many of the leadership insights and visions from Unilever and outline that a Net Positive Company is one that:
Improve the lives of everyone they impact, from customers, and suppliers to employees and communities, to increase the long-term shareholder value
Take ownership of all environmental and social impact its business model creates, which provides opportunities for innovation, saving, and a more humane and purpose-driven culture.
Partners with competitors, civil society and governments, driving transformative change to expand the impact.
Conclusion
Purpose and profit are proven to be interdependent, build on each other, and are a crucial base for any company establishing itself for continued long-term success. Responsible leaders are increasingly integrating the notion of them both in strategy, operations, and leadership.
Learn More
About George Serafeim and Harvard  
Purpose and Profit: How Business Can Lift Up the World (Book)
Building and Scaling Climate Solutions with Reynir Indahl, Summa Equity, Interviewed by George Serafeim
Harvard Impact Weighted Accounts Insights
Other information and inspiration
On Purpose
Businesses with a clear purpose do better while protecting people and planet (WEF)
A Review of Corporate Purpose: An Approach to Actioning the Sustainable Development Goals (Sustainability 2021)
The difference between Purpose and Sustainability (Harvard)
Five questions that boards should ask about purpose (Oxford)
Businesses with a clear purpose do better while also protecting people and planet (WEF)
Unleashing Sustainable Business (Cambridge)  (2 reports)
Rethinking
World on track for up to 2.6 C rise by 2100 (FT)
Rethinking how we measure companies on social and environmental impact (MIT Sloan)
Net Positive: How Courageous companies Thrive by giving more than they take (Book Pohlman, Winston)
From Boards Impact forum
United Nations COP27 Summit Board Directors Insights
How active owners engage their boards and improve their value creation agenda
Sustainability Leadership – with a Board View
__________________________________
This blog post was originally shared at the blog of Digoshen   www.digoshen.com,  and the blog of the Digoshen founder www.liselotteengstam.com
At Digoshen, we work hard to increase #futureinsights and help remove #digitalblindspots and #sustainabilityblindspots. We believe that Companies, Boards, and Business Leadership Teams need to understand more about the future and the digital & sustainable world to fully leverage the potential when bringing their business into the digital & more sustainable age. If you are a board member, consider joining our international board network and master programs.
To understand where you and your company stand in digital business and leadership progress, take our survey at Digoshen.com/research and get a free-of-charge personalized report with recommendations on moving forward. The survey is anonymous and takes about 15 minutes to complete.
You will find more insights via Digoshen Website, and you are welcome to follow us on LinkedIn Digoshen @ Linkedinand twitter: @digoshen  and founder @liseeng